When Juror Misconduct Leads Convictions to Be Reexamined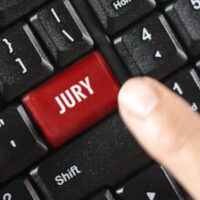 A ruling by the California Supreme Court in mid-October ordering the notorious case against Scott Peterson to be reexamined due to potential juror misconduct has captured news headlines of late, and brings into question under what circumstances convictions like these can be reexamined. Peterson's death sentence was already previously reversed in August when the court found that mistakes made by the trial judge had interfered with Peterson's right to an impartial jury during sentencing, but the murder convictions still stood. However, now that the case has been returned to the Superior Court, if a new trial is ordered on the grounds that juror No. 7 committed "prejudicial misconduct" by failing to disclose her prior involvement with certain legal proceedings ("including but not limited to being the victim of a crime"), prosecutors can once again seek the death penalty against Peterson.
Below, we discuss the circumstances under which juror misconduct can be found and new trials ordered; both during the voir dire process and throughout the trial; in federal and New York state criminal trials:
Federal Law & The Voir Dire Process
Both state and federal law address the issue of juror misconduct: Federal law dictates that a defendant is entitled to a new trial if the jury has considered evidence that was not presented at trial and there is a "reasonable possibility" that this evidence "could have affected the verdict." The Due Process Clause and Sixth Amendment also guarantee defendants the right to unbiased juries, and voir dire protects that right by exposing these biases; therefore, demonstrating that a juror failed to respond honestly to questions during voir dire and that a truthful response would have led the defense to challenge for cause (as occurred in Peterson's case) can establish actual bias, where proof of juror bias necessitates a new trial. Yet while there is a presumption that jurors answer voir dire questions truthfully, there is also a presumption that a failure to do so in a deliberate manner is indicative of bias.
New York State Criminal Procedure Law
In New York, in order to set aside a verdict, the court has to find that a juror's misconduct "may have affected a substantial right of the defendant." However, unlike California state law, which dictates that when juror misconduct occurs, a presumption of prejudice arises which the state must rebut, in New York, no one rule is automatically applied in circumstances like these. Instead, the court analyzes each instance of juror misconduct with respect to the specific facts and whether the juror's conduct "created a substantial risk of prejudice to the rights of the defendant by coloring the views of the other jurors, as well as their own."  
Work with The Best In New York Criminal Defense Services
Jurors are allowed to apply everyday experience, observations, common sense, and deductive reasoning to determine the truth in a dispute, but cannot influence other jurors using extraneous evidence or flawed conclusions.
Ensuring that you work with an experienced criminal defense attorney from the outset of any criminal proceedings can help ensure that mistakes aren't made that could cost you your right to a fair trial by an impartial jury. Contact NYC criminal attorney Mark I. Cohen, Esq. today to find out more about our legal defense services.
Resources:
appellatecases.courtinfo.ca.gov/search/case/dockets.cfm?dist=0&doc_id=2126450&doc_no=S230782&request_token=NiIwLSEmXkg%2FWyBdSyM9WEhIQFQ0UDxTICJeWzJTUCAgCg%3D%3D
sanfrancisco.cbslocal.com/2020/10/16/scott-peterson-lawyer-mark-geragos-dangers-stealth-jurors-murder-trial/
https://www.markicohenattorneynyc.com/child-endangerment-charges-considered-for-bronx-grandfather-based-on-hospital-choice-for-granddaughter/