Have a Former New York Prosecutor Fighting for Your Rights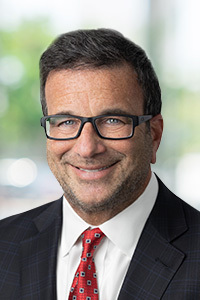 Mark I. Cohen began his legal career in 1985 as an Assistant District Attorney in the Office of the Honorable Mario Merola, Bronx County District Attorney, where he served as a trial attorney in the White Collar Crime, Rackets and Investigation Division.
Thereafter, Mr. Cohen was an associate attorney with Mound Cotton & Wollan, a prestigious litigation firm in Manhattan where he handled a variety of complex fraud matters and defended international corporations and criminal defendants.
In late 1990, Mr. Cohen left Mound Cotton & Wollan to start the Law Office of Mark I. Cohen, his own Criminal Defense practice in Manhattan. By 1995, Mr. Cohen became a member of Cohen, Frankel & Ruggiero, LLP, a boutique Criminal Defense and Real Estate firm, and since then has been in partnership with Peter M. Frankel, Esq. and Louis J. Ruggiero, Esq.
Since 1990 Mr. Cohen has maintained offices at 20 Vesey Street outside the World Trade Center in Manhattan's financial district. He handles criminal and corporate investigations and criminal litigation in the United States District Courts and New York State Courts. He also represents clients in administrative litigation proceedings against a variety of United States, New York State and New York City agencies. Mr. Cohen is fluent in Spanish.
Professional Development:
1982
Bachelor of Arts in Political Science
State University of New York at Binghamton
1985
Juris Doctor
Hofstra University
1986
Admitted to practice in New York State
1987
Admitted to practice in United States District Courts
Southern and Eastern Districts of New York
Memberships:
American Bar Association, 1986 – Present
National Association of Criminal Defense Attorneys, 1991 – Present
New York State Association of Criminal Defense Attorneys, 1991 – Present
New York State Bar Association, 1991 – Present
New York City Criminal Bar Association, 1991 – Present
New York County Lawyers' Association, 1991 – Present
EDNY/SDNY Federal Bar Council, 2019-Present