What Happens If You Miss A Court Date In New York?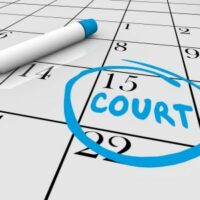 If you were arrested and charged with a crime and then released on bail, you most likely have an upcoming court date. If you do, it is crucial that you show up in court on the day you are supposed to. Failure to appear for your court date can lead to the issuance of a bench warrant. Moreover, you could end up facing additional criminal charges and penalties for the offense of "bail jumping."
Suppose you recently missed a court date. In that case, you must contact an attorney immediately to clear your name before you get charged with bail jumping. You have 30 days after you miss your court date to clear your name and ensure the court doesn't issue a bench warrant or charge you with bail jumping. Nonetheless, it is possible for you to clear your name even after the 30 days have passed.
Bench Warrant
When you miss a court date in New York, the court might issue a warrant for your arrest. The warrant of arrest issued in such a case is known as a bench warrant.
Bench warrants are almost the same as other warrants of arrests, but unlike other arrest warrants, judges generally only issue bench warrants when individuals violate court rules.
Once a New York court issues a bench warrant, the police can arrest you and take you into custody. If arrested, the chances are that you'll remain in custody until you take care of your missed court appearance.
What Are the Potential Consequences of Missing a Court Date in New York?
The penalties you risk facing for bail jumping depend on the degree of bail jumping you are convicted of.
If convicted of an offense in the third degree, you risk going to jail for up to one year or being sentenced to probation for three years. You also risk paying a fine of up to $1,000.
If convicted of an offense in the second degree, you risk spending up to four years in jail. You could also end up paying a fine of up to $5,000 if found guilty of bail jumping in the second degree.
If convicted of an offense in the first degree, you risk spending up to seven years in jail. You also risk paying a fine of up to $5,000 if convicted of such an offense.
Nudges Can Reduce Missed Court Dates
According to a study published in the Science Magazine, "broken" summons forms might be part of the reason why many defendants fail to show up for their court appearances. If, for instance, a summons form buries information about arrest warrants on the second page, a defendant might not see such information; thus, might fail to show up in court because of not taking their court appearance seriously. According to the researchers, redesigning such a form reduced the odds of defendants missing court appearances by 13%.
The study further explains that giving defendants redesigned forms and reminding them about their court dates through text messages reduced the chances of people missing their court dates by 21%.
Contact an NYC Criminal Defense Attorney Today
If you missed your court date for genuine reasons and are now worried that the court might issue a bench warrant and charge you with bail jumping, contact skilled NYC criminal attorney Mark I. Cohen for legal assistance.
Resource:
sciencemag.org/news/2020/10/new-york-city-uses-nudges-reduce-missed-court-dates