Trump Administration Unleashes New Rule That Will Likely Make All Visitor Visas More Difficult to Obtain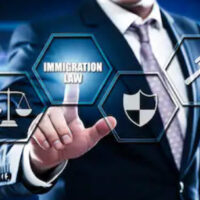 According to recent reports, the Trump administration is coming out with a new rule to try and prevent pregnant women from gaining citizenship, a phenomenon some in the administration refer to as "birth tourism." The new rule is expected to serve as a test for the administration to find out how much legal authority it has to prevent immigrants from relying on the 14th Amendment's protection of citizenship, with its next target being an end to birthright citizenship altogether.
While there are no official statistics on how many babies are born to foreign visitors in the United States, according to the Center for Immigration Studies, it is more than 30,000 per year. In addition, according to the Associated Press, "birth tourists" most frequently come from China, Nigeria, and Russia. According to administration officials, the regulation is also part of efforts to intensify the vetting process for all visas in general.
How Does It Work?
The regulation works by providing State Department officials with greater discretion to deny all the visitor visas (also known as the B visas, which are used for short-term business and tourism) if they believe that the visitor is using the process to become a citizen. However, it is unclear as to how it would be enforced; specifically, what criteria officials would use to determine whether to grant a visa; whether they would use the applicant's country of origin, pregnancy, etc.
Outlook Indicates That Its Effects Will Be Legally Challengeable
Some have pointed out the futility of the proposed regulation because very few individuals who give birth in the United States actually received a visa for that purpose. In fact, most people already have visas and come in later. In addition, State Department officials already have all the discretion in the world to deny visas because nationals outside of the United States do not have legal standing. However, restrictions like these could end up keeping out non-birth tourism visitors, such as pregnant women who come to the United States for business, and this is legally questionable and thus ripe to challenge in court.
Contact A NYC Immigration Attorney
Prior to this new regulation, a number of B visa applicants were already finding their applications rejected. In fact, for some countries, that rate is more than 90 percent. If you or a loved one recently immigrated to New York or are planning on immigrating there, you should consult with an experienced NYC immigration attorney who is well-versed in federal law as soon as possible, as this regulation will unquestionably affect the process. This is especially important for B visa applicants. Contact our experienced legal team at the office of Mark I. Cohen, Esq. today to discuss your options.
Resources:
qz.com/1696508/what-are-the-chances-of-being-rejected-for-a-tourist-or-business-visa/
axios.com/trump-rule-state-department-deny-visas-birth-tourism-81ba35e2-9c4a-42c8-9d15-ff2810e323fd.html
https://www.markicohenattorneynyc.com/federal-government-experiences-setbacks-in-anti-immigration-policies-here-in-new-york-but-can-the-courts-keep-up-with-the-administration/