Federal Government Experiences Setbacks in Anti-Immigration Policies Here In New York, But Can the Courts Keep Up with The Administration?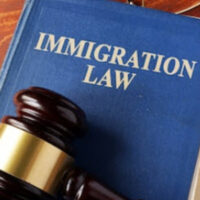 Federal courts in New York have recently blocked a number of the current administration's attempts at circumventing immigration laws from going into effect. Specifically, they most recently blocked the policy that would have cracked down on immigrants who rely on benefit programs, such as Medicare; finding that too many procedural corners were cut and immigration laws were violated in moving forward with it. They also struck down attempts to reward immigrants who speak English as blatantly violating the law.
Public Benefit Programs & English Proficiency
The rule that would have gone into effect on October 15 required that immigrants applying to enter the U.S., extend their VISA, or change their temporary immigration status undergo a test to determine whether they would likely end up depending upon public benefit programs. The test weighed a number of factors; not only testing whether someone might end up on food stamps; but also their English language proficiency. Statistics indicate that it could have affected close to 400,000 people, had it gone into effect.
Regardless of whether this decision will be upheld on appeal, this announcement – and others – have, unfortunately, already had a chilling effect, with noncitizens needlessly dropping their benefits at alarming rates for fear of being deported or facing other dire consequences.
Health Insurance, Refugees, And Public Housing
In addition, the courts can't always keep up with how fast the administration is moving: Earlier this month, Trump issued another proclamation barring immigrants who do not already have health insurance and cannot afford to pay for medical care from obtaining any kind of VISA to enter the U.S. In September, he issued a proclamation allowing states that do not have the resources to provide support for refugees to turn them back, and early this year, the Department of Housing and Urban Development proposed a rule that would evict families that have at least one unauthorized immigrant from all public housing.
The "Public Charge" Rule
Truthfully, the U.S. has been discriminating against prospective immigrants who are likely to become dependent upon the government for support for more than one-hundred years; however, since World War II, very few actually were turned away for these reasons. The current administration tried to define "public charge" very broadly, providing immigration officials with a significant amount of discretion in how to implement current regulations when it comes to each individual decision.
Contact an Established NYC Immigration Attorney for Assistance
If you or a loved one recently immigrated to New York or are seeking to, and have any questions or concerns about your status, related criminal issues, how to obtain a VISA given the current laws and regulations, or any other immigration-related question, contact NYC immigration attorney Mark I. Cohen today to find out how we can help.
Resource:
washingtontimes.com/news/2019/oct/13/trump-immigration-agenda-in-peril-after-rulings-ke/
https://www.markicohenattorneynyc.com/federal-immigration-policy-proposed-is-legally-problematic/