Surge in COVID-19-Connected White Collar Criminal Prosecutions Expected Here In New York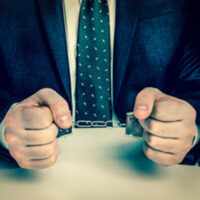 A number of former New York prosecutors are predicting that significant white-collar criminal prosecutions stemming from what COVID-19 has done to the market—similar to what followed the financial crisis of 2008– are coming, even though stay-at-home orders and court shutdowns will inevitably introduce trial delays and interfere with criminal investigations as well. There could also be issues with impaneling grand juries to indict defendants, as well as hurdles presented by the Speedy Trial Act and statutes of limitations. This will inevitably affect the ability to prosecute complex certain types of complex white collar fraud crimes. As of now, all trials in the Southern District of New York have already been suspended indefinitely and a number of fall trials have been pushed to 2021. In addition, the already-existing backlog in the courts is beyond overwhelming, and will inevitably provide a number of challenges for the courts once that they reopen.
Specific Charges Expected
Still, the US attorney in the Eastern District of New York has already brought charges against some small retailers for selling what has been declared to be essential equipment to combat the virus. Attorneys' offices are also expected to continue to increase focus on areas that are specific to the virus, such as violations of the Defense Production Act, false claims, Foreign Corrupt Practices Act, fraud, hoarding, misrepresentation, and price gouging in connection with acquiring and selling personal protective gear, as well as similar charges in connection with individuals accused of allegedly engaging in fraud to seek government loans and insider trading. Several lawmakers have also already been accused of violating the Stock Act, which prohibits trading on insider knowledge gained based on their position within the government to profit in the market, after selling their stock following their attendance and participation in intelligence briefings held on the virus.
Most Brought by Eastern & Southern Districts Of New York
Many of these prosecutions are expected to be brought in the Eastern and Southern Districts of New York, specifically, due to prosecutors having significant experience with financial securities and fraud prosecutions there, as well as states' attorneys general due to the number of consumer complaints they regularly receive. In fact, state prosecutors are expected to pay a significant role in these prosecutions. A number of prosecutors also expect prior bad acts to be brought to light as well, such as Ponzi schemes.
If You Have Been Accused of a Crime, Contact an Experienced Criminal Defense Attorney
If you have been charged with a crime here in New York in connection with the current pandemic or otherwise, contact experienced NYC criminal attorney Mark I. Cohen today to find out how we can provide you with the best legal advice and defense.
Resources:
bankrate.com/investing/stock-act-explained-congress-insider-trading-law/
abovethelaw.com/2020/05/will-we-see-a-wave-of-white-collar-litigation/
law360.com/articles/1271105/covid-crimes-white-collar-cases-to-expect-from-the-crisis
law.com/newyorklawjournal/2020/05/08/lawyers-see-coming-surge-in-white-collar-criminal-civil-cases-stemming-from-pandemic/
https://www.markicohenattorneynyc.com/when-police-misconduct-is-protected-by-qualified-immunity-will-the-us-supreme-court-take-action/