Sports Betting No Longer a Crime In New York, But Only Under Specific Conditions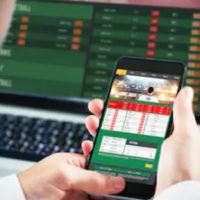 Approximately one year after the US Supreme Court lifted the ban on sports betting, New York officially joined the list of states that no longer designate wagering on sports to be illegal crime. New York is officially the ninth state to legalize it after the state game commission approved regulations. Some now claim that steps to legalize placing bets at sports venues and on mobile devices is the next step, but is still not legal. This means that a number of Americans are still technically engaging in an "illegal" activity: According to some estimates, Americans place $150 billion in illegal wagers on sports.
Indeed, online betting remains illegal in New York, and only commercial and tribal casinos are allowed to take wagers. According to reports, New York's state constitution requires that voters approve every specific expansion, indicating that another referendum is necessary before it is technically no longer a crime to place an online bet. Technically, voters in New York approved sports betting at upstate casino at a 2013 referendum, and it took six years for the state to change its constitution and legislature to pass an explicit law allowing for sports betting if/once the federal ban was lifted.
A Closer Look at State & Federal Gambling Laws
This means that online sports betting – in addition to being a gambling crime in New York – also carries with it other potential charges, such as money laundering. In fact, New York has pursued criminal prosecutions against offshore bettors where the bet was either accepted by the defendant in the state or made in the state. In addition, the federal gambling statute requires a violation of state gambling laws before charges can be made against someone engaged in illegal gambling. New York's law dictates that promoting gambling in the first degree (a class E felony) occurs when someone knowingly advances or profits from an unlawful gambling activity by:
Accepting or receiving more than five bets totaling more than $5,000 in one day;
Receiving money or written records from someone "whose chances or plays are represented by money or records" in connection with a lottery or policy scheme; or
Receiving more than $5,000 in one day in a lottery or policy scheme.
However, there is a valid defense when it comes to internet gambling, as, technically, there is no defendant accepting bets; instead, the bets are sent by a computer to a location where it is legal to receive and accept them. Still, many offshore gambling cases have been brought under this law.
Questions? Contact Our New York Criminal Defense Attorneys
If you have been accused of a federal or state crime in New York, contact our experienced NYC criminal defense attorneys at the office of Mark I. Cohen, Esq. today to find out how we can help.
Resources:
democratandchronicle.com/story/news/politics/albany/2019/06/10/sports-betting-how-new-york-casinos-closer-allowing-wagers/1408233001/
foxnews.com/sports/legal-sports-betting-begins-in-upstate-new-york
https://www.markicohenattorneynyc.com/a-look-at-the-federal-state-charges-against-jeffrey-epstein-defenses-he-may-put-forth/