New York Court of Appeals Weighs Whether Criminal Conviction Should Be Vacated Due To Juror Misconduct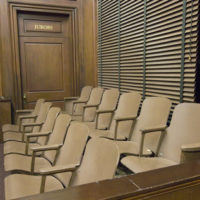 In New York, a criminal defendant is supposed to be granted a new trial if there is evidence of misconduct on behalf of a juror that supports an argument for the verdict to be set aside; regardless of the juror's intentions. But how do the courts decide whether there has been a significant amount of misconduct enough to order a new trial?
The Court of Appeals here in New York is currently in the process of deciding this in the trial of Dr. Robert Neulander, who was previously found guilty of murdering his wife, but was also granted a new trial due to one juror's actions that involved texting family and friends during the trail and discussing trial details. If the Court of Appeals affirms the lower court's decision to set aside his conviction, this could have very serious implications for criminal defense here in New York. Specifically, if it is upheld, it may open the door for a number of criminal defendants to be exonerated, although this particular decision may be narrow in that the juror was reportedly untruthful about disclosing her communications, and may in fact turn on whether or not the extent of outside influence that this juror had can be determined.
Isn't This Hearsay?
In this case, the information was brought to light by an alternate juror, who detailed what the juror who engaged in misconduct was doing in terms of communicating with others about the trial. Any allegations like these must be supported by a sworn affidavit precisely because hearsay statements do not suffice. This does not mean affidavits that contain hearsay allegations, but rather, affidavits containing first-hand observations of juror misconduct.
In addition, in New York, the trial judge has broad discretion when it comes to ruling on issues of juror prejudice and/or misconduct, where each case is examined based on its unique facts to determine if there has been improper influence. Indeed, the court engages in a kind of balancing act, whereby, on the one hand, it does not want to set a precedent of rendering jury verdicts questionable, but on the other hand, the defendant's fundamental rights must be preserved. Due process mandates that the jury decided the cases only based on the evidence in front of it and the trial judge prevented prejudicial occurrences. Exposure to information not admitted into evidence, influence from outsiders, bribes, etc. are all examples of extraneous influences that can a jury's verdict to be impeached.
Contact Our NYC Criminal Defense Attorneys
If you or a loved one has been accused of a crime here in New York City, it is imperative that you speak with an experienced criminal defense attorney right away in order to ensure that your rights are protected and that you receive a fair trial. Contact our NYC criminal attorneys at the office of Mark I. Cohen, Esq. today to find out about our criminal defense services.
Resource:
law.com/newyorklawjournal/2019/09/05/court-of-appeals-weighs-new-murder-trial-based-on-text-messages-received-by-juror/
https://www.markicohenattorneynyc.com/the-drug-enforcement-administration-just-made-an-announcement-that-could-be-the-beginning-of-marijuana-no-longer-being-classified-as-a-schedule-i-drug/