Lawsuit Challenges Administration's Refusal to Dismiss Immigration Removal Orders from Temporary Protected Status Beneficiaries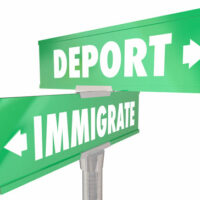 In late August, a number of immigrants who are unable to obtain green cards as a result of a new immigration policy put in place – and who are now vulnerable to removal as a result – brought a lawsuit challenging the administration, arguing that the policy violates the plain language of the Immigration and Nationality Act (INA) and leaves them in legal limbo. Some of them have lived in the US for decades under the Temporary Protected Status (TPS) program; many of them from countries affected by armed conflict, epidemics, and disasters; and who were afforded protection from deportation many years ago. Many also have children and spouses who are US citizens, having lived here for decades and established families.
How TPS Beneficiaries Historically Obtained Permanent Status Under the INA
The TPS program has long provided not only protection, but work authorization. However, it does not provide permanent immigration status, warranting that its beneficiaries must and often do seek to become lawful permanent residents. In order to do so, any who had pre-existing deportation or removal orders that prevented them for applying for permanent status (which was often simply due to the fact that they entered the US without inspection) would, in keeping with the plain text of the Immigration and Nationality Act, leave the US and come back, as, under the plain language of the Act, this is considered to have been "deported or removed in pursuance of law" and thus satisfies that requirement. As a result, any outstanding removal order was satisfied for that particular TPS beneficiary, and they could then apply for permanent legal status.
Administration's TPS Policy Decision
However, in December 2019, the administration foreclosed this practice and decided—without going through the official notice and comment rulemaking requirements required by the Administrative Procedure Act (APA)—that any TPS beneficiaries who were subject to removal orders at their time of departure would continue to have those removal orders outstanding upon their return to the US. Officials imposed this new standard without providing any rationale for the decision whatsoever; similarly to their rescission of the DACA program; a move that was recently declared to be illegal under the APA by the US Supreme Court.  As a result, tens of thousands of TPS beneficiaries have been left with no possible way to apply for permanent legal status.
Are You Concerned About Removal Orders? Contact Experienced Immigration Lawyer Mark I. Cohen
If you live in New York and have any questions or concerns about your immigration status, including but not limited to obtaining a green card, applying for citizenship, combatting any removal proceedings, or any other immigration legal issue, contact experienced NYC immigration attorney Mark I. Cohen, Esq. today for assistance. We are committed to ensuring that you are protected against the administration's illegal immigration policies.
Resource:
cnn.com/2020/08/26/politics/lawsuit-green-cards-cuccinelli/index.html
https://www.markicohenattorneynyc.com/new-limits-on-daca-applicants-renewals-and-changes-on-the-horizon-for-h-1b-visa-skilled-immigration-categories/