ICE Posing as Local Police to Arrest Immigrants In New York: Know Your Rights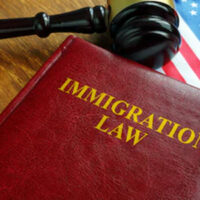 The latest reports out of New York indicate that Immigration and Customs Enforcement (ICE) agents are posing as local police in an effort to get around warrant requirements and enter peoples' residences and surrounding areas in order to detain and arrest people, including DACA recipients. Statistics indicate that they recently arrested more than 170 immigrants in six sanctuary cities between October 3 and 9, with the highest arrest numbers coming out of New York.
Mayor Bill de Blasio – like a number of other local leaders in sanctuary cities – has already issued statements informing ICE that this is a violation of the law and demanding that they cease misrepresenting themselves and threatening public safety by eroding any and all trust in law enforcement. Still, individuals who have been detained and whose rights have been violated will need to work with immigration and civil rights attorneys in order to obtain injunctive and declaratory relief.
The Fourth Amendment: Valid Consent or A Judicial Warrant Required
The agents have been reported as entering the "curtilage" surrounding peoples' homes and apartments (this typically includes yards, steps, porches, hallways, etc.) without warrants or consent, where the residents have a reasonable expectation of privacy, and knocking on their doors while pretending to be local police looking for a "dangerous criminal suspect in the area," members of narcotics squads, or probation officers in need of help, etc. Even equipped with fraudulent pictures and stories of suspects they are allegedly looking for, the agents then use this ruse to coerce information from families in order to arrest immigrants.
Many have speculated that ICE has resorted to these tactics because a number of immigrants are becoming increasingly aware of and asserting their constitutional rights. Specifically, the Fourth Amendment protects individuals (both citizens and noncitizens) from unreasonable search and seizure; not only in their homes, but in all constitutionally-protected private areas surrounding their homes (i.e. the "curtilage"). As a result, ICE agents cannot enter these areas without a warrant or valid consent.
Still, the agency's latest tactics are also highly questionable: Coercing people by impersonating another government official and misrepresenting themselves in order to gain access to an individual and/or their home does not constitute obtaining "valid" consent, and in place of valid consent, ICE agents need a judicial warrant to enter the curtilage or home, which they rarely – if ever – obtain. An administrative warrant issued by their own agency does not allow officers to enter these private areas because administrative warrants are not reviewed by independent judicial officers and therefore do not meet the requirements of the Fourth Amendment.
Agency Violating DHS & Its Own Regulations
ICE has responded that identifying themselves as "police" is acceptable, especially if they are interacting with individuals who do not speak English as a native language because "police" is a universally-understood word and identifying themselves this way "enhances officer safety." However, ICE regulations only allow for such a "ruse" provided that the agency their agents are impersonating be notified and provided with an opportunity to object, and ICE's operations manual even requires officers to obtain that other agency's permission first; none of which occurred in the New York (or other) arrests. In addition, Department of Homeland Security (DHS) regulations explicitly prohibit ICE from entering a residence and its curtilage to question occupants without first obtaining valid consent or a warrant.
If You Have Any Questions or Concerns About an Arrest or Removal Proceedings In New York, Contact Our New York City Immigration & Defense Attorneys Right Away
To speak with an experienced NYC immigration attorney about combatting removal proceedings or any other immigration or criminal law issue, contact Mark I. Cohen, Esq. right away.
Resources:
govinfo.gov/content/pkg/CFR-2014-title8-vol1/pdf/CFR-2014-title8-vol1-sec287-8.pdf
theyucatantimes.com/2020/10/ice-agents-posing-as-nypd-deceive-immigrant-family-now-father-faces-deportation/
cnn.com/2020/10/16/us/dhs-ice-immigration-arrests/index.html
https://www.markicohenattorneynyc.com/proposed-rules-introduce-significant-complications-for-international-students-immigrant-sponsors/