Harvey Weinstein Trial Gets Underway In New York & Highlights Juror Bias Issue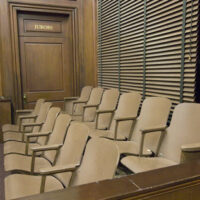 As the high-profile trial against Harvey Weinstein begins here in New York in January, the issue of to what extent Weinstein can truly receive a fair trial in terms of impartial jurors remains a serious issue. Specifically, the chances of being able to find a full complement of jurors that are unfamiliar with the allegations against him are slim-to-none. Potential jurors will be screened by being asked to describe what they have heard about Weinstein as well as what their own personal experiences have been with sexual assault and harassment.
It may very well be difficult for jurors to separate everything that they have seen and heard in terms of media coverage from the very specific charges/incidents at issue in the current case. Weinstein's motion to move the case to a different venue failed due to prosecutors successfully arguing that jurors across the state had the same access to news about the movie mogul.
The Issue of Outside Testimony Unrelated to Charges at Hand
Still, in order to ensure that every defendant receives a fair trial, as guaranteed by the U.S. Constitution, jurors are supposed to put aside personal feelings and bias and focus on whether the prosecution proves its case beyond a reasonable doubt. This may be especially difficult, given that several of Weinstein's accusers outside of charges associated with this specific case are expected to take the stand to testify about "prior bad acts" even though Weinstein is not being charged with any criminal offenses associated with these alleged acts. There is no question that this testimony could be very problematic for Weinstein.
The Bigger Issue of Selecting Juries
Outside of the Weinstein trial, the issue of bias and juror selection has a number of states concerned. As a result, some – such as Connecticut – have tried to start closing some of the loopholes that can result in heavily biased juries. One of these issues is linked to the extensive leeway that prosecutors have in being able to exclude particular individuals from a jury, even if it results in a severely unbalanced jury. Prosecutors can use what are known as peremptory challenges to strike potential jurors without having to prove that they are unfit even though these challenges, by their very nature, invite corruption of the judicial process.
If You Are Facing Charges, Contact an Experienced NYC Criminal Defense Attorney
If you have been charged with a crime, you want to ensure that you work with an NYC criminal attorney who has significant experience in the courtroom such that your rights are protected and you do not risk being denied a fair trial. Contact the office of Mark I. Cohen, Esq. today to find out about our criminal defense services and experience.
Resources:
law.com/newyorklawjournal/2020/01/03/jury-selection-will-be-difficult-extra-accusers-testimony-key-in-weinstein-rape-trial-observers-say/
law360.com/articles/1231182/why-preventing-jury-selection-bias-may-need-a-fresh-look
https://www.markicohenattorneynyc.com/police-law-enforcement-quickly-adopt-forensic-genealogy-methods-to-sold-cold-cases-charge-suspects-using-dna-evidence-that-is-damaged-or-contaminated/