Administration Moves to Restrict US Work Visas & Other Immigration Policies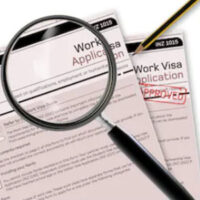 Pursuant to President Trump's April proclamation, there are a number of expected immigration changes on horizon, many of which are not likely going through notice and comment rulemaking, and most of which are expected to significantly affect the benefits, employment, and licensing of visa holders. Specifically, under the Immigration and Nationality Act, it is expected that the proclamation will be expanded to bar entry into to the US for H-1B, H-2B, L-1, and J-1 applicants, with exceptions made for certain workers due to the COVID-19 crisis, including recruitment employers and both food supply and healthcare workers. There have also been a number of recently-proposed and implemented regulatory changes to immigration laws and policies that are important to be aware of, as discussed below:
Specific Regulatory Changes Expected
According to initial reports, the potential rulemaking that is in the works will likely include the following specific actions:
Rescinding the STEM OPT regulation
Adding requirements to the 12-month Optional Practical Training program
Making significant changes to the H-1B visa program–for example, to the definition of specialty occupation, which the administration has repeatedly lost in court over–as well as wage levels
Increasing processing fees of $20,000 or more
Rescinding the H-4 Employment Authorization Rule
Eliminating employment authorization for those with asylum, refugee, and temporary protected status
Those Already Proposed
In mid-June, the administration proposed a rule that would raise the standard of proof for immigrants seeking asylum and allow immigration judges to deny applications for protections without first allowing applicants the right to a hearing. If adopted, the policies would continue well beyond COVID-19 to have a lasting impact on the nation's immigration policies, as well as bar those seeking asylum from pursuing other forms of immigration relief by allowing officers to declare their asylum applications to be "frivolous."
Those Already Implemented
In April – May, the administration:
Implemented a border rule that blocked more than 40,000 immigrants from seeking asylum at the southwest border without first providing them with due process
Issued an executive order temporarily suspending the issuance of green cards to most immigrants located outside of the US
Issued an emergency rule prohibiting colleges from providing virus relief funds to any undocumented or foreign students, including any within the DACA program
Visa Categories Supposedly Spared for Now
Those with work visas who appear to have been spared from the proclamation's chopping block include:
NAFTA/USMCA TN visas
O-1 extraordinary workers
P-1, P-2, P-3 entertainment visas
R-1 religious workers
Treaty Trader E-1 and Treaty Investor E-2 visas
If You Have Any Questions or Concerns, Contact NYC Immigration Attorney Mark I. Cohen Today 
If you have any questions or concerns about immigration issues, including visa questions, contact NYC immigration attorney Mark I. Cohen today for assistance.
Resources:
cbp.gov/newsroom/stats/sw-border-migration
nytimes.com/2020/05/13/us/politics/trump-coronavirus-border-restrictions.html
forbes.com/sites/andyjsemotiuk/2020/06/12/speculation-mounts-as-list-of-us-work-visas-to-be-restricted-grows/#605d80475b1c
nytimes.com/2020/06/12/us/politics/coronavirus-trump-immigration-policies.html
s3.amazonaws.com/public-inspection.federalregister.gov/2020-12575.pdf
https://www.markicohenattorneynyc.com/us-officials-latest-tactics-to-separate-families-deport-back-to-dangerous-countries-potentially-orphaning-children/