A Majority of Female Criminal Defendants Are Abuse Victims: What This Says About Self-Defense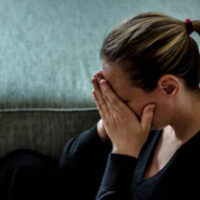 According to studies, 77 percent of female criminal defendants are also victims of abuse and a significant number of women serving time in prison were tried, found guilty, and incarcerated because they were acting in self-defense against their abusers, which is within their legal rights. Take, for example, the story of LeToya Ramseure, who fatally shot her abusive ex-boyfriend in self-defense after he began beating her, but was still charged and, unable to afford an attorney or post bail, spent time in prison as a result. Or Cyntoia Brown, who spent 15 years of a life sentence for killing the man who forced her into sex trafficking as a teenager.
There is no question that authorities need to take into account circumstances surrounding domestic abuse survivors at the arrest and charging stages.  Currently, unless these defendants have an aggressive criminal defense lawyer fighting for their rights and ensuring that a history of domestic violence is brought to the surface as evidence, they are arrested and charged for fighting back; and treated like criminals for simply surviving.
Too Many Women End Up Incarcerated for Self-Defense
While deciding to charge someone who was simply defending themselves from an abuser may seem like a rare event in the world of criminal justice, in fact, there is a high rate of criminalization of survivors of domestic and sexual violence, and these survivors tend to face extreme sentences in prison, including life without the possibility of parole. Some real-life examples of people who were punished severely for trying to protect themselves and/or their children include the following:
Child abduction charges brought against a woman who tried to leave the country to protect herself and her daughter from an abusive partner
Criminal aggravated assault and attempted murder charges brought against one woman who drove away from her assailants after being attacked and struck one in the process
Aggravated assault with a deadly weapon charges brought against a woman who shot at the wall while attempting to escape a violent partner with their newborn baby
Involuntary manslaughter charges brought against a juvenile who shot and killed an abusive father whose violence had repeatedly been reported to police
And yet, these arrests and incarceration rates aren't just linked to violent crimes: Today, arrest rates for women are highest for offenses such as criminal mischief, driving under the influence, local ordinance violations, harassment, public disorder, substance abuse, minor property crimes, and simple assault.
If You Are Facing Charges for Self-Defense, Contact Our Experienced NYC Criminal Defense Attorneys
Mark I. Cohen is an experienced NYC criminal attorney who represents those who have been charged with crimes that could be linked to domestic violence. Contact our office today to find out more about our services.
Resources:
rollingstone.com/culture/culture-features/cyntoia-brown-beyond-other-cases-775874/
inquirer.com/news/michael-coard-letoya-rameseure-criminal-justice-domestic-violence-jenice-armstrong-20200109.html
https://www.markicohenattorneynyc.com/revenge-pornography-prosecutions-could-be-hampered-by-increasingly-successful-free-speech-defense-claims/