White Collar Crimes: Some Basics on Forgery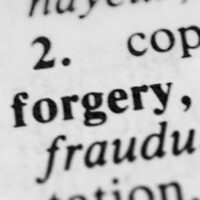 In New York, white-collar crimes are common, with many New Yorkers being charged with different white-collar crimes daily. One prevalent white-collar crime in New York is the crime of forgery. In New York, forgery crimes fall under either misdemeanors or felony crimes, with felony crimes carrying more severe penalties than misdemeanors. As is with many other crimes in New York, forgery is classified into different categories known as "degrees." There are three degrees of forgery, which are Third, Second, and First degrees. A first-degree offense is the most serious and carries the heftiest punishment.
Definition of Forgery
New York Penal Law 170.05 defines forgery as the act of making, completing, or changing a written instrument for purposes of defrauding, deceiving, or injuring another person. Written instruments include;
Printed material
Tokens
Computer programs or data
The definition of "written instrument" is quite broad such that it includes any cable TV boxes that have been tampered with by their owners to accept channels not paid for.
Like in many other states in America, the court system in New York treats forgery crimes seriously. Guilty parties get to spend up to fifteen years in prison. Because of the hefty penalties that come with forgery charges, any accused person must work with a qualified criminal defense attorney who can build a strong case for them.
Third-Degree Forgery
According to the law, a forgery crime in the third degree is a class A misdemeanor. This crime involves the act of making, altering, or completing a written instrument to injure, deceive, or defraud someone.
Such a crime might be the least serious, but it attracts a jail sentence of up to one year and a monetary penalty of up to $1,000.
Second-Degree Forgery
A person is guilty of second-degree forgery if the prosecution proves the elements of a first-degree crime and that one of the following items was involved.
Deed
Will
License
Public record
Token
Certain medical prescription
This crime is a Class D felony punishable by up to seven years in prison. Guilty individuals could also end up paying fines of up to $5,000, or a monetary penalty of twice the amount gained from the crime.
First-Degree Forgery
If the prosecution proves the elements of a first-degree crime and that the act of forgery was committed on stamps, money, bonds, stocks, or any other instruments stated under New York Penal Law 170.15, the individual in question gets charged with a first-degree forgery crime.
Such a crime is a class C felony. In New York, this crime attracts a prison sentence of up to fifteen years. The offense is also punishable by a fine not exceeding $5,000, or a monetary penalty of twice the amount gained from the crime.
Speak To an Experienced NYC White Collar Crime Attorney Today
Regardless of the degree of your accused forgery crime, it would be best if you worked with a qualified New York criminal defense attorney. To ensure you receive the best outcome in your case, contact the dedicated NYC white collar crime lawyer Mark I. Cohen, Esq. today at 212-732-0002.
Resource:
nysenate.gov/legislation/laws/PEN/P3TKA170