What Is a Desk Appearance Ticket?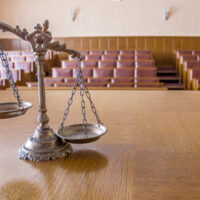 In New York, not every arrested individual remains in custody until their arraignment. Those who receive Desk Appearance Tickets (DATs) after being arrested avoid the detention process. A Desk Appearance ticket allows an arrested individual to go home after an arrest. In New York, people receive DATs for misdemeanors and most E felonies charges. The law requiring police officers to issue Desk Appearance Tickets for misdemeanors and most E felonies took effect on January 1, 2020.
So, what exactly is a Desk Appearance Ticket (DAT)? In New York, a DAT is a written order which a police officer issues to an arrested person, requiring them to appear in court on a specific return date. An individual needs to appear in court on the return date to respond to criminal accusations. Even though individuals who receive these tickets do not remain in custody as they await arraignment, they are still considered arrested.
Being issued with a DAT does not mean a person is guilty. However, it means that they stand accused of committing an offense. Therefore, the word "ticket" should not misguide you into thinking that receiving a DAT is like receiving a traffic ticket. A Desk Appearance Ticket will send you to a criminal court. Nonetheless, receiving a DAT in New York is beneficial to many New York residents. The thought of spending time in jail waiting to be arraigned in court is generally frightening to many.
Because of the seriousness of a DAT, you should contact a New York City Desk Appearance Ticket Attorney when issued with one. Between the time you receive the DAT and the time you make your first appearance in court, make sure you discuss as many details as possible with your attorney. Doing so will help you achieve the best results.
Instances When Police Office Can Issue DATs
Police officers issue people with desk appearance tickets in several instances, but most people who receive these tickets receive them after committing misdemeanor offenses.
You can get a DAT for the following offenses;
Shoplifting
Assault
Trespassing
Marijuana charges
Apart from issuing desk appearance tickets for misdemeanors, police officers also issue them for some Class E felonies. You can receive a DAT for an E felony such as grand larceny in the fourth degree.
How Do the Police Determine When To Issue Desk Appearance Tickets?
In New York, it is up to the police to decide whether someone receives a DAT or remains detained while awaiting arraignment. Police officers consider several factors before deciding who to give a desk appearance ticket. New York police officers consider, among others, whether;
a defendant has a previous criminal history
a defendant resides in New York
It is important to note that the police will never process domestic violence complaints as DATs irrespective of someone's criminal history.
What Should You Do After Receiving a New York DAT?
Immediately you receive a DAT, contact an NYC Desk Appearance Ticket Attorney who will represent you in court from the first day you appear in court. Also, do not miss to appear in court on the return date indicated on the DAT because failure to appear in court can lead to your immediate arrest.
Contact Us for Help Today
If you have received a DAT in New York, contact experienced NYC desk appearance tickets (DAT) attorney Mark I. Cohen, Esq. at 212-732-0002 to ensure you receive the best legal representation.
Resource:
datacollaborativeforjustice.org/work/communities/desk-appearance-tickets-in-new-york-state-in-2018/