What Does a District Attorney Do?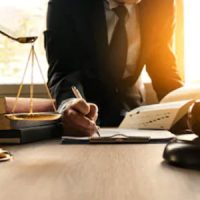 If you or someone you know is facing criminal accusations, you have likely heard the term District Attorney or DA getting thrown around. The District Attorney (DA) is also known as a state attorney or prosecutor. While you may have heard the term District Attorney or DA getting thrown around, you probably do not know who a DA is or what they do. As a criminal suspect or a friend or family member of a criminal suspect, it is crucial that you understand who a District Attorney is and their role.
So, who is a District Attorney, and what exactly does a District Attorney do? Below is a look at who a District Attorney is and what a District Attorney does.
Who Is a District Attorney?
District Attorneys play a major role in the criminal justice system. These professionals work for county or state governments and are responsible for prosecuting people accused of committing criminal offenses. In New York, for example, each of the 62 counties has an elected District Attorney. DAs work to secure convictions in criminal cases and prosecute criminal defendants. This means that the work of District Attorneys has a significant impact on the lives of defendants and their families, as well as the lives of victims and their families. District Attorneys have significant decision-making power, and their decisions can significantly impact people's lives.
District Attorneys work with the police to investigate crimes, determine if criminal charges should be filed against an individual, and prosecute defendants. Regardless of their title, the role of a District Attorney remains the same.
What Does a District Attorney Do?
A District Attorney has many responsibilities. The following are a few of the duties of a District Attorney;
Conducting Investigations
One of the responsibilities of a District Attorney is to conduct investigations. In most states, before a person is charged with a criminal offense or indicted, the DA will be required to put together a grand jury. The DA is required to conduct investigations and present evidence before the grand jury. Then, the grand jury members decide whether the suspect should be prosecuted.
Investigating Evidence
District Attorneys investigate the evidence presented by the police before deciding to prosecute a criminal suspect. Before prosecuting a suspect, the DA must ensure that evidence is admissible and strong enough to prove guilt beyond a reasonable doubt.
Prosecuting Criminal Suspects
District Attorneys have a duty to determine if the evidence presented before the grand jury is sufficient to prove guilt beyond a reasonable doubt. If it is, the DA is responsible for prosecuting the criminal suspect. On the other hand, if the evidence is not strong enough or the DA determines that someone else committed the crime, they have the power to decide not to prosecute the accused individual.
Offering Plea Bargains
Plea bargaining is when the prosecutor agrees to reduce a defendant's punishment in exchange for a waiver to trial. DAs have the discretion to offer plea bargains to criminal defendants.
Attending Trials
Finally, DAs work with defense attorneys to choose petit jury members. Once a petit jury has been selected, the DA and the defense attorney present evidence in court, and then the jury decides if the defendant is guilty or innocent.
Contact an NYC Criminal Attorney
If you need more information or help with a criminal case, contact our skilled NYC criminal attorney, Mark I. Cohen.