What Are Your Rights If You Are Facing Removal Proceedings?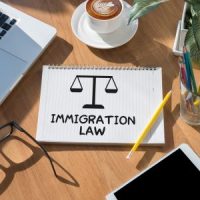 Being in a removal proceeding is any immigrant's worst nightmare. A removal proceeding is a proceeding to determine an immigrant's removability under the nation's immigration law. In other words, this is a proceeding to determine if an immigrant should be deported. There are various grounds for deportation in the U.S., including criminal convictions and being in the U.S. illegally.
You might be panicking if you recently received a notice to appear in removal proceedings. You are likely even contemplating going into hiding. Do not do that. If you are facing removal proceedings, you need to stay calm. You should know that although you are not a United States citizen, you still have legal rights. If you are facing deportation, you should know that you have recourse. This article discusses some of the rights you have if you are facing removal proceedings.
Your Rights if You Are Facing the Prospect of Deportation
Even non-citizens who reside in the U.S. have legal rights that should be protected. If you are an immigrant who is facing the prospect of being deported from the U.S., the following are some of the rights you have that you should know about;
The Right to an Attorney
Immigrants facing deportation have the right to retain an attorney. However, you only have this right if you can afford to hire an attorney. Immigrants facing deportation are not provided with an attorney if they cannot afford one. But for those who cannot afford an attorney, there are options. For instance, one may be able to get a pro bono lawyer to work on their case for free.
The Right To Remain Silent
If federal agents try to ask you questions, you have the right to assert your right to remain silent. Asserting this right can help you avoid making self-incriminating statements.
Some people choose not to stay silent because they believe they will look guilty if they do so. You should know that the right to remain silent includes the condition that unfavorable conclusions cannot be made just because a defendant or respondent refused to answer questions.
The Right To Refuse a Warrantless Search
In most cases, immigrants are allowed to say no to a warrantless search. If law enforcement officers ask to search your home or office, for example, without a warrant, ensure you assert your right to be free from unreasonable searches. Without probable cause or a warrant, law enforcement officers cannot search your home or office unless you give them your consent.
The Right To Effective Communication
If you are an immigrant who cannot understand English, the court must provide an interpreter for you so you can understand the proceedings. If the court provides an ineffective interpreter and you report that to the judge, the court is required to provide another interpreter.
The Right To Present Evidence
You have the right to present evidence that can help you in your case. This includes the right to present witness testimonies, including your own testimony.
Contact an NYC Immigration Attorney
If you are facing a removal proceeding and are looking to hire an experienced attorney, contact our NYC immigration attorney, Mark I. Cohen, Esq.
Source:
ilrc.org/sites/default/files/resources/nta_practice_advisory.pdf