Understanding Why Eyewitnesses Are Often Wrong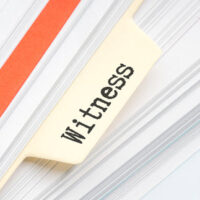 Eyewitnesses play a crucial role in the investigation and prosecution of crimes. But, when you look at cases overturned because of DNA evidence, you will find that inaccurate eyewitness testimonies are often to blame. This shows that just because eyewitnesses tend to get a lot of support from the court and jury does not mean they are always right.
According to a perspective published in the Proceedings of the National Academy of Sciences of the United States of America (PNAS), many innocent people have spent years in jail while the perpetrators remain free, the latter often committing more crimes. To be precise, the Innocence Project, a nonprofit organization dedicated to exonerating people who have been wrongfully convicted, estimates that 20,000 people in United States prisons are falsely convicted. Erroneous convictions based on flawed eyewitness accounts also risk undermining public trust in the criminal justice system.
In light of the above concerns, experts assembled by the National Academy of Sciences (NAS) undertook a study to determine why eyewitnesses are often wrong. The new perspective mentioned earlier on is generally a summary of the report that resulted from the study. Below, we will look at what the experts determined to be the main reasons why eyewitnesses are often wrong.
Why Are Eyewitnesses Often Wrong?
Firstly, according to the study, while human vision is good, various conditions make it hard to perceive what is happening accurately. Some of these conditions include viewing conditions such as lighting and distance, the presence of distracting stimuli such as loud noises and weapons, and the internal states of an observer (e.g., motivation and attention). Unfortunately, human beings do not always focus on the things that would make them good eyewitnesses. For example, if an individual is waving a gun around, we tend to focus on the weapon rather than on the individual's face. When one concentrates on a gun and fails to focus on the face of the person waving the gun around, it means that, at the end of the day, they will have only partial information, which breeds visual uncertainty, which then breeds bias when observers turn to past experiences to create a coherent picture that makes sense.
Secondly, memory is malleable (easily influenced). Generally, additional information gathered from family members, law enforcement, friends, and the press, can reduce the likelihood that an eyewitness correctly identifies the perpetrator. Information and beliefs can invade memories and even permanently alter them. In fact, when an eyewitness receives additional suggestive information, which they believe to be true, their brain may fill in any gaps with things that match that particular belief.
In conclusion, even though eyewitnesses are often wrong, it does not mean that the judicial system's reliance on eyewitnesses is completely misguided. The judicial system just needs to do more to ensure they only convict people based on accurate eyewitness testimonies.
Contact an NYC Criminal Defense Attorney
The above are just a few of the reasons eyewitnesses get it wrong. If you need more information on why eyewitnesses are often wrong or help with a pending criminal case, don't hesitate to contact skilled and dedicated NYC criminal attorney Mark I. Cohen today at 212-732-0002.
Resources:
pnas.org/content/114/30/7758
innocenceproject.org/how-many-innocent-people-are-in-prison/