U.S. Supreme Court Makes Monumental Decision Opening Door for Immigrants with Criminal Convictions to Have Deportation Orders Reviewed by The Courts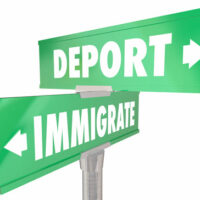 The U.S. Supreme Court recently made an important decision that will allow a number of immigrants—including those convicted of crimes—to challenge deportation orders. The case – Guerrero-Lasprilla v. Barr (consolidated with similar case Ovalles v. Barr), involved an appeal from two immigrants whose reviews were denied by the Fifth Circuit, which claimed that it did not have jurisdiction under the Immigration and Nationality Act to review their cases because it would require them to address questions of fact versus questions of law. The Supreme Court ultimately disagreed, not only finding that this particular issue of whether the time limit to challenge removal should be extended (which comes up frequently for immigrants appealing deportation orders) involved a question of law, not fact, but that the presumption of reviewability includes the review of petitions by aliens challenging removal orders.
The decision is extremely significant, as it will not only make it much easier for immigrants to challenge deportation decisions, even if they have a criminal record, but it will limit the ability for the current administration to quickly remove immigrants convicted of certain crimes without first providing them with their right to judicial review.
The Cases
Both cases involved legal immigrants who were removed due to felony drug convictions, and motions to reopen their cases almost 10 years later due to a number of judicial decisions that had been made during that time which changed the circumstances of their cases. Their motions were denied by the immigration judges because they were not "timely filed"; the case that they cited occurred in 2014 and they did not file their motions until 2016; therefore, the immigration judges ruled that they did not engage in the required "due diligence," for "tolling," or earning the ability to have your case reopened years after you've been deported.
The Appeal
On Appeal, the Board affirmed this denial, and the litigants appealed to the Fifth Circuit, which claimed to lack jurisdiction to review the determination as to whether the litigants acted diligently in attempting to reopen their removal proceedings in terms of tolling because, according to the Fifth Circuit, this is a factual question, not a question of law, and the Immigration and Nationality Act limits the court to reviewing questions of law only.
The U.S. Supreme Court's Reasoning
The U.S. Supreme Court disagreed, finding that this was a matter of applying a legal standard to established, undisputed facts (i.e. a question of law), and therefore, the Fifth Circuit had erred in holding that it did not have jurisdiction to consider the petitioners' claims. The Court also pointed out that the principle of statutory construction is to favor judicial review, including in cases like these that involve immigration statutes.
Contact NYC Criminal Defense & Immigration Attorney with Any Questions or Concerns
If you have been charged with a crime and/or have any immigration-related legal questions, contact NYC criminal attorney Mark I. Cohen, Esq. today for the very best in legal advice and representation.
Resource:
supremecourt.gov/opinions/19pdf/18-776_8759.pdf
https://www.markicohenattorneynyc.com/u-s-supreme-court-rules-that-police-officers-can-pull-over-cars-simply-because-car-owners-drivers-license-is-suspended-or-revoked/