U.S. Supreme Court Makes Deporting Immigrants with Criminal Convictions Easier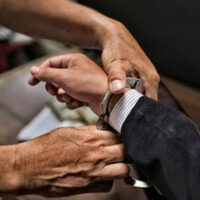 In late April, the US Supreme Court made two decisions that will make circumstances significantly more difficult for immigrants seeking legal status; First, denying requests from New York and other states to block the controversial public charge rule during the pandemic, which makes it more difficult for immigrants to obtain legal status if they currently do or could come to depend on any benefit programs such as Medicare or food stamps; and second, making it easier for the administration to deport immigrants who have any criminal convictions in their past by essentially nullifying the U.S. law that allows permanent residents selected for deportation to apply to have their deportation canceled if they have been living continuously in the US for at least seven years and have not committed certain felonies within that time.
Court Denies Request to Suspend Public Charge Rule
The argument brought by New York and several other states put forth evidence that implementing the public charge rule during the pandemic increased threats to everyone's public health and safety because it deterred immigrants from seeking health treatment, which could lead to additional transmission of the virus. The Court did, however, open the door to State attorney generals to request that their district courts to halt implementation of the rule, which could have a significant effect, as New York Attorney General Letitia James, for example, has already confirmed that she will be requesting that the US District Court for the Southern District of New York halt the rule.
Court Ignores Common Sense & Finds That Serious Criminal Conviction Warrants Deportation
The US Supreme Court also made it easier for the government to deport immigrants who had committed crimes in their past; even minor crimes. Under existing US law, permanent residents selected for deportation can apply to have their deportation canceled if they have been living continuously in the US for at least seven years, unless they have committed certain felonies. A change was enacted by Congress in 1996, known as the "stop-time rule," which essentially stops the clock on their continuous residency and disqualifies them if they commit a specific serious felony.
In the case at hand, the Court held that the legal permanent resident at issue in the case who had been here for years was ineligible to have his deportation canceled because his 1996 assault charge triggered the stop-time rule even though, at that time, he had already been in the US too long to be deported for that crime. Immigration authorities reportedly decided his deportation could not be canceled because the charges triggered the stop-time rule right before he reached the seven-year milestone. The majority appears to have justified the decision by simply indicating that Congress made a general choice to authorize the removal of permanent residents who had committed certain types of serious crimes, regardless of when they were committed. However, even the immigration judge in the resident's case noted that the resident's bid to avoid deportation should have been granted because he had rehabilitated and because his four children were all US citizens.
This Could Affect You: Contact Defense & Immigration Attorney Mark I. Cohen Today
This decision could affect a significant number of US permanent residents with criminal convictions; many of them minor offenses. According to the Migration Policy Institute, there are almost two million noncitizens that the government has designated as deportable based on criminal convictions, and most of them are legal residents.
If you have been accused of a crime and/or have any questions or concerns related to immigration here in New York, including a concern that you could be targeted for deportation, contact NYC criminal attorney Mark I. Cohen, Esq. immediately to ensure that your legal status is not placed in jeopardy.
Resources:
cnn.com/2020/04/24/politics/supreme-court-public-charge-pandemic/index.html
reuters.com/article/us-usa-court-deportation/supreme-court-eases-path-to-deport-immigrants-for-crimes-idUSKCN2252F6
https://www.markicohenattorneynyc.com/u-s-supreme-court-weighs-definition-of-serious-drug-offense-criminalization-of-immigration-advocacy/