Thousands of Skilled Immigrants, Including Doctors, Wait Decades for Green Cards, While The U.S. Desperately Needs Their Help to Combat the Coronavirus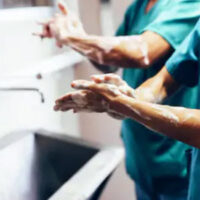 Issues involving immigration, visas, green cards, and citizenship are especially contentious at the moment, not only due to the panic over borders and virus transmission, but also due to the current administration's policies on immigration in general, which have reflected attitudes opposing skilled workers coming into the country for years; even though these workers are needed in a number of different industries. In fact, US Citizenship and Immigration Services has already been found to be illegally denying H-1B petitions submitted by employer companies, and the issue has only gotten worse now, with some reportedly stuck abroad due to the coronavirus crisis.
According to recent reporting, for more than 200,000 Indians in particular, the current wait for a green card is longer than their lifetimes. Without the ability for these individuals or the employers who need foreign professionals to fill these positions to hire experienced immigration attorneys to challenge delays or denials, the U.S. will inevitably lose out on hundreds of thousands of skilled workers who could otherwise positively contribute to America's economy, and even save lives as we battle the coronavirus. In fact, 60 percent of the current green card backlog includes foreign doctors and similarly skilled professionals; in other words, doctors that the U.S. desperately needs, but who cannot come and/or work here due to immigration barriers.
How Skilled Immigrants Obtain Lawful Permanent Residents in The U.S.
The process of establishing lawful permanent residence in the U.S. involves the following: An employer submits a petition requesting that the government allow the immigrant to apply for a green card. If the petition is approved, the immigrant can apply only if the green card cap is unfilled. However, the cap has not been updated by Congress in 30 years, and, as a result, many are prevented from applying, resulting in a backlog that is expected to reach more than 2.4 million by 2030.
Immigrant groups also have quota limits within the cap based on birthplace, resulting in some workers facing wait times of 90 years or more if they make up a significant percentage of skilled workers. As a result of these arbitrary limits, the U.S. government has had to find other ways of approving more than one million petitions for workers and their families who could not otherwise establish legal permanent residence.
How The Cap System Has Blocked Desperately Needed Doctors from Working Here
The system separates skilled workers into five primary categories for green cards – EB-1 through EB-5 – and each has their own cap. The largest backlog has occurred in EB-2, which includes foreign doctors and similarly skilled professionals. According to estimates, this makes up 60 percent of the backlog, meaning that many have already waited more than a decade to come to the U.S. Meanwhile, the U.S. is desperately in need of doctors and other healthcare workers (i.e. those in category EB-2) to help combat the coronavirus and care for U.S. patients affected by it.
If You Have Any Legal Immigration Questions or Concerns, Contact Our Immigration Attorneys Today
If you are an employer or a foreign professional who needs assistance with an immigration issue, contact NYC immigration attorney Mark I. Cohen, Esq. today for assistance.
Resources:
npr.org/2020/03/26/822107719/pandemic-disrupting-u-s-immigration-process-at-every-level
nydailynews.com/new-york/ny-allan-wernick-immigration-column-20200331-4ftmxrr7vbd6zlcwpdxuxp65eq-story.html
qz.com/india/1828970/over-200000-indians-could-die-waiting-for-a-us-green-card/
https://www.markicohenattorneynyc.com/administration-proposes-significant-changes-to-deportation-orders-delaying-path-to-citizenship/