Internal Investigation Ordered After Video Surfaces of NYPD Using Excessive Force to Arrest a Man with Less Than One Ounce of Marijuana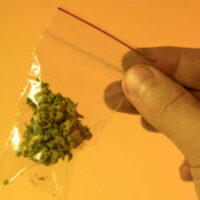 In March, the New York Police Department (NYPD) ordered an internal investigation after a video surfaced exposing a group of officers arresting a man in an allegedly abusive way, for smoking a small amount of marijuana. The man was not resisting arrest, and the police have been criticized for how they handled the incident.
According to the police, the suspect was observed in a park smoking a marijuana cigarette (which was. approximately .32 grams; significantly less than the minimum required to trigger criminal penalties under the state's new laws) and fled when approached by police. However, the video only captured images of the suspect with his back against the wall, asking police what crime he had committed to justify how he was being treated. After several additional officers arrive, he is then pushed to the ground, while screaming "I did not commit a crime," "help me," and "I am not resisting."
Why/How Was This Suspect Targeted?
While the video is, at times, very unclear, it reportedly appears as though one officer was standing on the suspect's ankle at one point and that possible shots were fired as well. What is also of concern is the fact that New York recently removed criminal penalties for possession of less than two ounces of marijuana, while reducing the penalty for possessing less than one ounce to a small fine, regardless of one's criminal record. As a result, there are questions surrounding how there was justifiable reasonable suspicion or probable cause for the officers to even target the suspect for a stop and frisk in the first place.
A History of These Issues for The NYPD
This is by no means the first time that questions have come up concerning the legality surrounding the search practices of the NYPD: In 2013, one US District Court Judge ruled that the police had been systematically stopping and frisking innocent people without any reason for years, which was unconstitutional, and ordered the NYPD to adopt policies specifying when these stops are legally authorized.
Some are also likening this recent incident and the use of excessive force to one that involved another New York citizen, Eric Garner, who died after being placed in a chokehold by a NYPD officer for selling cigarettes on the street, all while repeatedly saying that he could not breathe. Family members of the suspect are calling for the officers involved to not only be fired, but also criminally charged.
The Disparate Treatment & Charges of Those Involved
The suspect was ultimately charged with several misdemeanors, including obstruction of governmental administration, resisting arrest, and unlawful possession of marijuana in the second degree (a fine of up to $50). While the incident is currently under internal review, the officers involved have not had their duty status changed.
If You've Been Arrested, Contact A NYC Criminal Defense Attorney
NYC criminal attorney Mark I. Cohen has successfully argued to the courts that police have engaged in a number of illegal search and seizure tactics for clients. If you have been arrested for a drug crime or believe you are being investigated, contact our office today to find out more about our services.
Resources:
archive.nytimes.com/www.nytimes.com/interactive/2013/08/12/nyregion/stop-and-frisk-decision.html
cnn.com/2020/03/07/us/nypd-internal-investigation-of-arrest/index.html
https://www.markicohenattorneynyc.com/is-it-time-to-correct-what-has-resulted-in-a-massive-injustice-for-criminal-defendants-in-courts-around-the-country-every-day/