If You Were Arrested by The NYPD for A Minor Offense in The Subway, It Could Be Due to Discrimination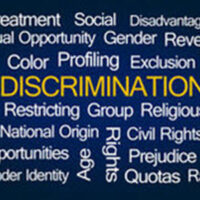 On December 6, the New York Times covered an important expose on racial profiling committed by the New York Police Department (NYPD) in targeting arrestees for minor offenses, such as jumping turnstiles. According to the sworn statements by six officers, they were told to go after "blacks and Latinos" and that they were "stopping too many Russian [white people] and Chinese."
The statements were gathered as part of a discrimination lawsuit brought by several officers for what they claim was retaliation from the NYPD for refusing to abuse by these quotas for arrests that occurred between 2011 and 2015, although the issue has also captured the public eye in general due to an increasing crackdown on low-level offenses and policing in the subway in what many call the "criminalization of poverty." Meanwhile, enforcement has surged when it comes to fare evasion in New York: According to the statistics, it increased by 50 percent in 2019, with officers issuing 22,000 more tickets than they did in 2018, thus exacerbating the issue of certain races being targeted for persecution and prison in general here in New York.
The Statistics Point to Police Targeting Blacks & Hispanics
There is no question that, according to the department's own records (which they are required to keep due to a local law), most people arrested on charges of fare evasion are black or Hispanic. Within the last two years, black and Hispanic people accounted for more than 90 percent of those who were arrested instead of ticketed and 73 percent of those who were ticketed. The statistics paint a picture that the same actions lead to different results; depending upon what you look like.
In addition, according to the officers who have filed affidavits, one police captain n particular (Captain Tsachas) would get angry officer arrest numbers came from subway stations in predominantly white or Asian neighborhoods and officers would be redirected to stations that had higher black and Hispanic populations. Some officers also described Tsachas urging officers to come up with reasons to stop black men, "especially those with tattoos." Tsachas joined the police in 2001, and moved from patrolling housing developments in Harlem, to Queens, and then the Transit Bureau. He was appointed captain in 2011 in charge of Brooklyn's District 34, and moved onto Transit District 32 in 2015.
Do Not Be the Victim of Discrimination: Contact an Experienced NYC Criminal Defense Attorney
It is unconstitutional to consider race in deciding who to arrest. If you have been arrested for an offense, contact NYC criminal attorney Mark I. Cohen today for a free consultation to find out how we can provide you with the very best in criminal defense services.
Resource:
nytimes.com/2019/12/06/nyregion/nyc-police-subway-racial-profiling.html
https://www.markicohenattorneynyc.com/new-york-city-weapons-restrictions-on-trial-at-u-s-supreme-court/