How To Get Drug Charges Dismissed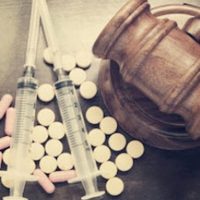 New York drug laws are some of the strictest in the United States of America. If you are convicted of a drug crime in New York, chances are, you will face harsh penalties such as jail time and significant fines. Depending on the specifics of your case, being convicted of a drug crime could result in you spending years in jail. However, the good news is that you have the right to defend yourself if you face drug charges in New York. You can handle your case "pro se" (i.e., without an attorney) or hire an attorney. It is usually best to retain an attorney when facing drug charges.
If you are facing drug charges and you retain a skilled drug defense attorney, your attorney could help you get your charges dismissed. It is not easy to get drug charges dismissed, but it is also not impossible. The following are some of the ways an attorney can help you get your New York drug charges dismissed;
Proving Insufficient Evidence
For you to be convicted of a drug crime, the prosecutor must prove beyond a reasonable doubt that you committed the crime in question. This is the highest standard of proof. Your attorney could attempt to show that the prosecution does not have enough evidence to support its case. If the prosecution lacks enough evidence to prove their case beyond a reasonable doubt, your attorney can seek a dismissal of your case.
Show That the Search Was Illegal
Every day, police officers perform searches in people's homes and cars. But, law enforcement officers are not allowed to conduct unreasonable searches. An unreasonable search is one where the police do not have a valid search warrant or probable cause. If the evidence the prosecution has against you was obtained through an unreasonable search, your attorney could use that to have your charges dismissed. If your attorney can prove that the evidence the prosecution has against you was obtained through an illegal search, that evidence may be thrown out of court, and in turn, that could lead to your charges being dismissed.
Prove That Your Rights Were Violated
Apart from getting your drug charges dismissed by showing that your right to be free from unreasonable searches was violated, your defense attorney can attempt to get your charges dropped by showing that another of your constitutional rights was violated. For example, you cannot be forced to speak to the police. If the officers that arrested you forced you to speak to them, and from talking to them, they found evidence they can use against you, you may have a defense.
Disprove Chemical Tests
Another way your attorney could get your drug charges dismissed is by trying to disprove the chemical tests that were conducted to show that the substance in question is actually a drug. Your attorney can challenge the lab reports proving the substance you were found with is a controlled substance. This may create a headache for the prosecutor and, in the end, result in your charges being dismissed.
Contact an NYC Narcotics Crime Attorney
If you are facing drug charges in New York and need a qualified defense attorney to help you fight your charges, contact our NYC narcotics crime attorney, Mark I. Cohen, at 212-732-0002.