How A Felony Conviction Can Affect An Individual's Voting Rights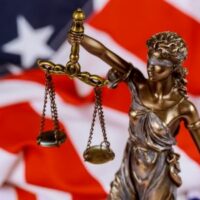 If you currently stand accused of committing a crime, you probably feel worried about several things. For instance, you are probably feeling concerned about how a conviction might affect your post-conviction life. Unfortunately, when a person is convicted of a crime, it is expected that the conviction will affect their future in one way or another. For example, a criminal conviction can affect your ability to find employment, rent a house, hold a public office, travel, or obtain financing. Criminal records usually damage people's reputations, and, unfortunately, employers, landlords, lenders, and many other people are afraid of being associated with individuals with a criminal past.
One other crucial thing that a criminal conviction can adversely affect is your right to vote. In some states, convicted felons lose their voting rights. Fortunately, New York is not one of those states that prevent all convicted felons from ever voting again. Generally, in New York, once you finish serving your sentence, you can probably vote again. However, just knowing this is not enough. There is more that you need to know about voting rights and felony convictions in New York. Keep reading to find out more.
Felony Convictions and Voting Rights in New York
The general rule in New York is that a convicted individual can vote;
after being discharged from parole
after being pardoned
if they were convicted of a misdemeanor and not a felony
if they were sentenced to probation
after serving their maximum sentence
In the above situations, a person's voting rights are automatically restored. However, for you to vote, you'll need to register again.
Generally, you cannot vote if you are;
still in prison for a felony conviction, or
on parole for a felony conviction.
However, in April 2018, Governor Andrew M. Cuomo signed an executive order that allows for the restoration of an approved person's right to vote even before they complete their parole. If, after being sentenced, you get released from jail and to community supervision, the New York Governor's Office will review your information together with that of other people released to community supervision. After a thorough review, the Governor's office will issue conditional pardons and restore each approved person's voting rights. If you happen to be among the approved people, you'll be able to vote before your parole ends.
Please note that even after the Governor's office awards conditional pardons, a convicted felon's rights can still be revoked. Your voting rights can be repealed if you;
get convicted of another felony, or
violate your parole.
Although you can regain your voting rights after a felony conviction, you can work with a skilled criminal defense attorney to contest your felony charges and keep your voting privileges intact. As an American citizen, voting is one of your most important constitutional rights. Therefore, you should do everything that you can to protect that right. No matter how bad your felony charges seem, remember that an experienced criminal defense attorney can help you. An attorney can help you convince the court to reduce your criminal charges.
Contact Us for Legal Help
If you are in or around NYC and are currently facing felony charges, contact skilled NYC criminal defense attorney Mark I. Cohen to get legal help.
Resource:
nyclu.org/en/issues/voting/voting-rights-new-yorkers-felony-convictions