Federal & State Officials Increasingly Cracking Down On Drug Busts In New York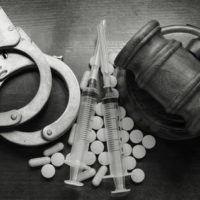 On May 8, federal drug agents from Homeland Security Investigations and the U.S. Enforcement Agency, as well as the New York Police Department, made what was announced as the largest cocaine seizure in New York City in recent years. The arrest involved a reported 19 defendants (two of which have been accused as operating as "major traffickers") and 176 pounds of cocaine; with an estimated value of approximately $3 million. The federal probe portion was titled "Operation Grizzly" because it supposedly targeted the "Grizzlies gang."
According to officials, drug traffickers were pushing fentanyl-laced cocaine, as well as ecstasy, Xanax and Ketamine, which were going to be sold in $10 and $20 packets throughout the Bronx and Manhattan. This large seizure is an indication that New York law-enforcement is gearing up to arrest more and more individuals in order to target the "opioid crisis" that they are convinced is destroying the streets and families. In addition, the New York Attorney General's office is reportedly also bringing civil charges against the opioid manufacturers and distributors.
Hundreds Charged with Drug Trafficking In New York; Just in the Last Two Years
Indeed, a pattern of strong prosecutions against drug trafficking and narcotics charges involving federal, local, and state resources have emerged recently here in New York: In late April, a grand jury indicted 65 people in connection with another drug bust, where dealers were targeted in several counties, including Jefferson, Oswego, Onondaga, Oneida, and St Lawrence. Investigators relied on "covert surveillance" and wiretapping to catch those they targeted (namely targeting cocaine, fentanyl, and heroin dealers) and the defendants have been charged with a number of crimes, including possessing and selling drugs, conspiracy, and/or criminal sale of a controlled substance; and now face a maximum of 25 years in state prison as a result (and, in some cases, even life sentences).
This was all part of a broader state initiative, which has reportedly resulted in the arrest of more than 430 alleged drug traffickers just since 2017. Some officials are also linking these arrests and charges to gangs such as the "Del Luiza group." The Attorney General calls it the "Suburban and Upstate Response to the Growing Epidemic (or "SURGE") initiative, which targets New York's heroin, narcotics, and opioid trafficking.
If You Are Facing Drugs Charges, Contact Our Experienced New York Narcotics Defense Attorneys
If you live in New York and have been charged with a federal and/or state narcotics crime, contact our experienced New York City narcotics crime defense attorneys at the office of Mark I. Cohen, Esq. today to find out how we can help ensure that your rights are protected throughout the process. Drug charges can not only land you in prison, facing significant sentences, but they can destroy your reputation and chances of future employment.
Resources:
ag.ny.gov/press-release/operation-central-city-attorney-general-james-takes-down-two-drug-rings-responsible
news.wbfo.org/post/biggest-drug-bust-ever-western-new-york
wskg.org/news/major-drug-bust-arrests-65-for-heroin-fentanyl-trafficking-in-central-northern-new-york/
wskg.org/news/major-drug-bust-arrests-65-for-heroin-fentanyl-trafficking-in-central-northern-new-york/