Do Criminal Defense Attorneys Get Paid If They Lose A Case?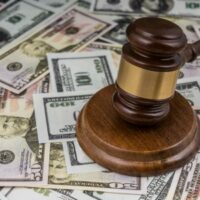 You have probably heard attorneys advertise their services with the phrase, "No fee unless we win." If you are facing criminal charges, you are likely wondering if this phrase also applies to criminal defense attorneys. So, does the phrase, "No fee unless we win," apply to criminal defense attorneys? No. This phrase does NOT apply to criminal defense attorneys. However, if you cannot afford a criminal defense attorney, you may have options.
Defendants Have a Right To Free Counsel
The Sixth Amendment to the U.S. Constitution grants criminal defendants the right to counsel. This means that a defendant who cannot afford to pay for a criminal defense attorney can still get legal counsel. However, this right to free counsel does not apply to all criminal defendants.
The right to free counsel has always applied to defendants facing prosecution in federal courts. But, it has not always applied to all state-level felony cases. In fact, it was not until 1963 that the U.S. Supreme Court decided the right to free counsel should apply to all state-level felony cases. Later, the Supreme Court decided to expand this right to all state-level misdemeanor charges that carry a substantial risk of jail time, usually twelve months. Therefore, a defendant facing a minor offense such as a traffic violation who cannot afford an attorney might not have the right to free counsel.
If you have the ability to pay for a private attorney, it is wise that you do so. Hiring a private attorney offers many benefits. For example, because private attorneys usually don't have nearly as many cases as public defendants, it means a private attorney can dedicate enough time and effort to your case.
Why Can't Criminal Defense Attorneys Be Paid on a Contingency Fee Basis?
When an attorney advertises their services using the phrase, "No fee unless we win," it means they work on a contingency fee basis. This payment arrangement entails the attorney recovering their payment from the money their client recovers at the end of the case. Usually, you will see this payment arrangement with personal injury attorneys because personal injury cases involve settlements or court awards. A contingency fee arrangement involves the attorney taking a percentage of the recovered amount.
Criminal defense attorneys do not work on a contingency fee basis because there is no money to be awarded at the end of the case. There is no "pot" to collect from as it pertains to criminal cases. Criminal cases are really not about "winning" or "losing," as is the case with personal injury cases. In a criminal case, a defendant is generally fighting for their freedom.
However, the good news is that there are ways of reducing legal costs. For instance, you can reduce your legal costs by giving your attorney all the information they need from the word go. This will allow them to save time and, in turn, help you save money.
Contact an NYC Criminal Defense Attorney
If you're facing criminal charges and need help from an experienced and dedicated attorney, contact the NYC criminal defense attorney, Mark I. Cohen, at 212-732-0002 to schedule a consultation.
Source:
law.cornell.edu/wex/right_to_counsel#:~:text=The%20Sixth%20Amendment%20gives%20defendants,Wainwright%2C%20372%20U.S.%20335