Disorderly Conduct In New York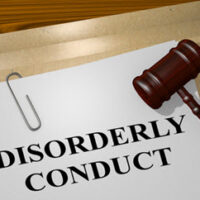 Disorderly conduct is a term used for various offenses that do not result in a criminal record. Offenses that constitute disorderly conduct are usually punishable by minor penalties. In the U.S., disorderly conduct laws differ from State to State. Because of the different rules, what constitutes disorderly conduct in one State might not constitute disorderly conduct in another State. However, states consider disorderly conduct as any behavior likely to result in anger, alarm, annoyance, or an increased likelihood of engaging in unlawful activity. In New York specifically, disorderly conduct charges are codified in New York Penal Law Section 240.20.
New York Penal Law Section 240.20
According to New York Penal Law Section 240.20, an individual can be charged with disorderly conduct when;
They make unreasonable noise; or
They engage in violent, threatening, or tumultuous behavior; or
In a public place, they use obscene or abusive language, or
Congregate with other individuals in a public place and refuse to lawfully disperse despite a lawful order from the police; or
They obstruct pedestrian or vehicular traffic; or
Create a dangerous or physically offensive condition; or
Without lawful authority, they disturb a lawful assembly or meeting of persons,
with intent to cause annoyance or public inconvenience. For instance, if you get into a loud argument with a friend or family member on the streets of an otherwise quiet neighborhood in the early morning, you could be charged with disorderly conduct.
According to New York Penal Law Section 240.20, disorderly conduct is a violation. Generally, what this means is that disorderly conduct is not considered a crime in New York. Nevertheless, because disorderly conduct is a violation doesn't mean its conviction is not a big deal. In New York, a disorderly conduct conviction could mean, among other things;
Up to 15 days in jail
A monetary fine of up to $250
Conditional discharge
$120 surcharge in City Court or $125 surcharge in Town Court
Restitution
If you are facing disorderly conduct charges, it is in your best interests to contact an attorney. You may not consider a disorderly conduct conviction as a big deal until you consider the effects of spending fifteen days in jail on your work, family, and social life.
Possible Defenses to Disorderly Conduct in New York
After contacting an attorney to help you after being charged with disorderly conduct in New York, your attorney will develop a defense strategy to help you. There are many defenses that your attorney can use. Some of the common defenses to disorderly conduct in New York include, among others;
Mental illness
Duress, which means you were forced to perform the conduct against your will.
Justification, which means the conduct was authorized or required by law to avoid imminent injury to private persons or the public
Contact Mark I. Cohen for Legal Help
If you are charged with disorderly conduct in New York, you should talk to a defense attorney. Just because disorderly conduct is considered a violation doesn't mean you should not be worried about a conviction. Contact the experienced NYC criminal defense attorney, Mark I. Cohen, today to discuss your case.
Resource:
nysenate.gov/legislation/laws/PEN/240.20