Contentious Bail Law To Be Toughened To Give Judges More Discretion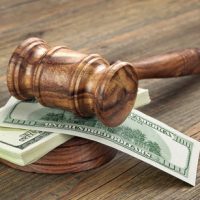 Several years ago, a new law was passed in New York that, among other things, eradicated cash bail for most crimes. This law which seemed to add a measure of justice to a system that was criticized for punishing the poor was celebrated by New York's Democratic lawmakers. The idea behind the bail reform was to stop punishing people who cannot afford to post bail while awaiting trial.
However, Governor Kathy Hochul recently announced that the state is rolling back some of the bail reforms. This came after voters and residents blamed bail reform for the rise in crime. The new law intends to remove a provision that states that NY judges should choose the "least restrictive" way to ensure criminal suspects return to court. This policy change that is opposed by some of Governor Kathy Hochul's Democrats came as part of a budget deal decided upon by the state legislature.
Under the current policy, New York judges are required to choose the least restrictive way to make sure criminal suspects come back to court. Under the current policy, it is "preferable" for a judge to release a criminal suspect on bail. While the exact details of the new bill are unknown, it is likely to include a provision that states that judges should consider the type or degree of control or restraint required to ensure criminal suspects show up to court. Once the current requirement is removed, more accused people, particularly repeat or serious offenders, could be made to stay behind bars while awaiting their trial.
According to one particular poll, a lot of people support the changes to the bail laws. The poll, which was conducted in Siena College, found that over 70% say judges should be given more leeway in setting bail for criminal suspects facing charges for serious crimes. Only 20% were against the idea. Law enforcement officials and prosecutors also support the changes outlined by Governor Kathy Hochul.
Should You Retain an Attorney Before Your Bail Hearing?
Bail causes disagreements between GOP and Democratic lawmakers in New York. Democratic lawmakers prioritize defendants' rights, whereas GOP lawmakers prioritize the community's safety. The community's safety and the rights of the accused are two important priorities, and balancing the two can be challenging. It is for this reason that bail laws have been in a state of unpredictability over the past few years. Bail has also caused a lot of debate in other states. At least fourteen states have published bills that would partially make it difficult for criminal suspects to be set free while awaiting trial.
Considering everything, if you are facing criminal allegations, it is best that you retain a skilled defense attorney before your bail hearing. Working with an experienced criminal defense attorney can increase your chances of securing a bail deal that is in your favor. A skilled criminal defense attorney can advocate for you and argue against any unfair decisions.
Contact an NYC Criminal Defense Attorney
If you are facing criminal accusations in New York and are looking for a skilled defense attorney, contact our NYC criminal defense attorney, Mark I. Cohen, Esq., at 212-732-0002.
Source:
nytimes.com/2023/04/28/nyregion/bail-reform-ny.html