Admissible and Inadmissible Evidence: Some Crucial Information About the Two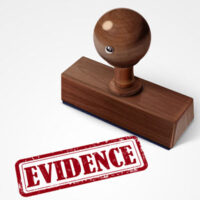 Evidence is crucial in any criminal case because it can prove a person's innocence or guilt beyond a reasonable doubt. A judge can never consider a person guilty or innocent until the evidence admitted in court proves them to be either guilty or innocent without a reasonable doubt.
Courts may accept different types of evidence, but the most common types of evidence are;
Documentary Evidence – This involves the use of documents as evidence.
Real/Physical Evidence – This involves materials that a judge or jury can physically touch and analyze. Examples include, weapons, and blood samples.
Testimonial Evidence – This involves witnesses getting up on the stand and narrating what they heard or saw.
Demonstrative Evidence – This type of evidence illustrates a witness's testimony. An example of such is a diagram of a crime scene.
Admissible and Inadmissible Evidence
Although different rules apply to the different types of evidence, the one rule shared among all is that evidence must fall under the "admissible evidence" category for it to be accepted in a criminal court. Essentially, admissible evidence is reliable and relevant, and inadmissible evidence is irrelevant and unreliable. Reliable and relevant evidence does not have to make a particular fact certain, but it must reduce or increase the fact's likelihood.
It is vital to note that even evidence that was initially considered admissible may still be excluded from a case, if the court determines it to be otherwise unfair. Unlawfully obtained evidence is one example of evidence that can be considered inadmissible due to unfairness, even if the court had previously found it admissible.
Courts can never use inadmissible evidence to prove guilt or innocence.
The Complexities of Testimonial Evidence
Since testimonial evidence relies heavily on people's statements, some strict rules apply to such evidence considering that people's views can be negatively influenced by poor memories or prejudice. For instance, hearsay is only admissible in a court if it falls within an exception to the hearsay rule.
Apart from hearsay, any evidence aimed at proving a person's character, often to show that an individual would or wouldn't do or say what they are being accused of, is only acceptable under limited circumstances.
Repressing Inadmissible Evidence
Defendants' attorneys need to suppress any inadmissible evidence to ensure their clients' chances of securing freedom or less severe penalties are protected. A qualified attorney should be able to challenge any irrelevant and unreliable evidence the prosecution tries to use against you. When the prosecution side introduces irrelevant, and unreliable evidence, your attorney should work towards convincing the court to suppress the evidence on the grounds that the evidence is inadmissible.
Contact Our NYC Criminal Defense Attorneys Today
Being accused of a crime, regardless of what crime it is, is scary. When charged with a crime, you must immediately speak to a qualified criminal defense attorney to protect your rights. You are entitled to a fair and speedy trial, and an experienced criminal attorney can ensure you get that. Contact the NYC criminal attorney at the office of Mark I. Cohen, Esq. today to receive the help you need with your criminal case or that of someone you know.
Resource:
nycourts.gov/judges/evidence/8-HEARSAY/ARTICLE-8-RULES.pdf