A New York State Employee Arrested After Leaving Cocaine At Work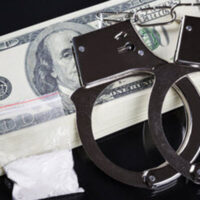 Tejuan D. Carter, a 44-year-old man from Albany, New York, who works with the Department of Taxation and Finance, was on October 25 arrested and accused of dropping cocaine while he was leaving his workplace. According to NEWS10 ABC, Tejuan's arrest came after State Police responded to a call at the Harriman State Campus on October 21. The call was by staff who spotted a zip-lock bag with a white substance in it. The police confirmed that the zip-lock bag was determined to contain approximately 6.5 grams of cocaine. Together with the bag containing cocaine, the police found a digital scale. After an investigation, the police found that Carter dropped the cocaine when he was leaving work. Carter was charged with;
Criminal sale of a controlled substance 3rd degree (A Class B felony)
Criminal use of drug paraphernalia (A misdemeanor)
Criminal possession of a narcotic drug 4th degree (A Class C felony)
After his arrest, Carter was remanded to Albany County jail in lieu of $10,000 cash or $20,000 bond, after being arraigned in the City Court.
Below is a brief look at the three criminal charges facing Tejuan D. Carter.
Criminal Sale of a Controlled Substance in the Third Degree
According to New York Penal Law 220.39, an individual is guilty of criminal sale of a controlled substance in the third degree when they knowingly and unlawfully sell, among many others, a narcotic drug or a stimulant that weighs one gram or more.
In New York, cocaine is classified as a Schedule II controlled substance and narcotic. Cocaine is a Schedule II controlled substance because it has a high potential for abuse, and its use can cause severe physical and mental dependence.
Criminal Use of Drug Paraphernalia
According to New York Penal Law 220.50, an individual is guilty of using drug paraphernalia if they knowingly possess or sell, among others, scales and balances used or designed for weighing or measuring controlled substances. However, for you to be convicted of this crime, circumstances showing an intention to use or circumstances showing knowledge that some individual intends to use the same to unlawfully produce, pack, or distribute any narcotic drug or stimulant must exist.
Criminal Possession of a Narcotic Drug in the Fourth Degree
According to New York Penal Law 220.09, you are guilty of criminal possession of a narcotic drug in the fourth degree if you unlawfully and knowingly possess one or more mixtures, preparations, compounds, or substances having a narcotic drug and said compounds, preparations, mixtures, or substances are of an aggregate weight of at least one-eighth ounce but less than one-half ounce.
Contact an NYC Narcotics Crime Attorney for Legal Help
A conviction of a drug charge can have serious lifelong effects on your rights. Therefore, if you stand accused of a drug crime, it is crucial for you to work with a drug defense attorney who can fight for your freedom and rights. Keep in mind that even a misdemeanor narcotics charge can have long-lasting adverse effects. Mark I. Cohen handles all sorts of drug-related cases, from simple possession to international trafficking offenses. Contact the experienced and dedicated NYC narcotics defense attorney Mark I. Cohen today at 212-732-0002 to discuss your case.
Resource:
news10.com/news/state-employee-accused-of-dropping-cocaine-at-work/