5 Signs You Hired The Wrong Criminal Defense Attorney And Need A New One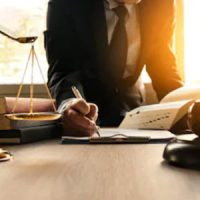 When a person is facing criminal charges, they have a constitutional right to an attorney. This right is guaranteed to criminal defendants in the Sixth Amendment to the U.S. Constitution. It is crucial for criminal defendants to exercise this right and avoid tackling their criminal cases alone.
You did the right thing if you already hired a criminal defense attorney to help you with your criminal case. However, it is not enough to hire just any attorney. Only the right attorney can only help you with your criminal case. Some attorneys do not take their job seriously, and others just can't get the job done. Hiring the wrong person to be your criminal defense attorney can be detrimental. It could cost you your freedom and/or assets. But how do you know if you hired the wrong person for the job? How do you know if you need to hire a new criminal defense attorney? The following are some signs you hired the wrong criminal defense attorney and need a new one;
Poor Communication
Indeed, it is no secret that attorneys are busy people. However, a good criminal defense attorney should be easily reachable. If they cannot be reached directly on the phone, a good defense attorney will call back their client within a reasonable time. A good criminal defense attorney returns their clients' messages promptly. If the defense attorney you're currently working with does not return your calls within a reasonable amount of time or at all or respond to your messages promptly or at all, it is a sign you hired the wrong attorney and need a new one.
Filings Are Late
It is a clear sign you hired the wrong criminal defense attorney and need a new one if the attorney is always missing filing deadlines. Missing filing deadlines can negatively impact your criminal case. For example, missing a deadline can mean you won't get a full hearing.
Unprofessional Behavior
If your attorney talks rudely, shows up late for court hearings, and behaves in other unprofessional ways, it is a sign that you hired the wrong attorney and need a new one. You do not want to have an attorney by your side who is disrespectful to the judge and/or prosecutor. If, for example, your case is best resolved by plea bargain, you need to have an attorney by your side who the prosecution does not hate dealing with.
They Are Unprepared
If your attorney shows up to court without fully understanding the facts of your case and applicable law, you should consider finding a new attorney. Not only is the attorney engaging in legal malpractice, but they are lowering your chances of avoiding a conviction or at least having your charges reduced.
Ineffective Support Team
A criminal defense attorney might need to work with a team if a criminal case is complex. For example, they might need to work with paralegals and assistants. However, the team can only help you if it is functional. If your attorney has a team and the team appears dysfunctional, you should consider hiring a new attorney.
Contact an NYC Criminal Defense Attorney
If you're facing criminal charges and need to hire a criminal defense attorney, talk to our skilled and dedicated NYC criminal defense attorney Mark I. Cohen at 212-732-0002.