Wire Fraud Lawyer in NYC
Mark I. Cohen is an experienced Federal Criminal Defense Attorney in New York City who represents defendants charged with Wire Fraud in the United States District Courts for the Southern District of New York, and Eastern District of New York.
Wire fraud is a federal crime pursuant to 18 U.S.C. § 1343. Generally, to convict someone of a wire fraud offense, the prosecutor must prove, beyond a reasonable doubt that:
(1) the defendant has devised or intended to devise a scheme to defraud or to perform fraudulent acts; and
(2) the defendant has used an interstate telephone call or other electronic communication for the purpose of executing or attempting to execute, the scheme or to perform the specified fraudulent acts.
Wire fraud is often charged in conjunction with other criminal offenses such as access device fraud, identity theft, money laundering, health care fraud, securities fraud, bank fraud, etc…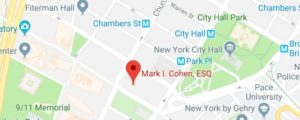 Wire fraud is punishable by up to twenty (20) years in prison for individuals. Additionally, a fine of up to one million dollars may be imposed, along with an order of asset forfeiture and restitution. In the federal criminal justice system, sentencing is based on a variety of factors set out in the United States Sentencing Guidelines. Perhaps the most important factor in a wire fraud case is the "loss amount", which simply stated means the amount of money which is alleged to have been misappropriated and stolen from the victim(s). Other important sentencing factors include the number of victims; whether the offense involved misappropriation of a trade secret; whether the conviction involved a Federal health care offense; whether the offense involved material misrepresentations (i.e. that the defendant was acting on behalf of a charitable, educational, religious or political organization, or a government agency); whether the defendant relocated the fraudulent scheme to another jurisdiction to evade law enforcement; whether the offense involved an organized scheme to steal or to receive certain goods; and whether the offense involved the conscious or reckless risk of death or serious bodily injury or the possession of a dangerous weapon.
In addition to having mastered the procedural and substantive law pertaining to wire fraud, attorney Mark I. Cohen has also mastered the United States Sentencing Guidelines.
Charged with Wire Fraud in New York City?
By retaining Mark I. Cohen, a defendant maximizes the chances that:
(1) he or she will be released from custody on the lowest possible amount of bail or on his or her own recognizance;
(2) he or she may be able to prevail on a motion to dismiss the indictment (if the indictment is defective);
(3) he or she will be able to suppress any evidence illegally seized by investigators;
(4) he or she will be able to prevail at trial;
(5) he or she will be able to obtain the best plea bargain possible should there be compelling evidence of the defendant's guilt; and
(6) he or she will be able to obtain a non-prison sentence, or which results in the lowest amount of fine or prison possible.
If you have been charged with wire fraud, you should contact Mark I. Cohen, an experienced Federal Criminal Defense lawyer, to maximize your chances of preserving your freedom, reputation, and assets.  
We are available 24 hours to provide all necessary criminal defense services.
If you or someone you know has been arrested, please call/text Mr. Cohen on his emergency number 917-414-8585 or email mcohen@cfrlaw.net.
Hablamos Español